Food, Love & Tokyo (Part I)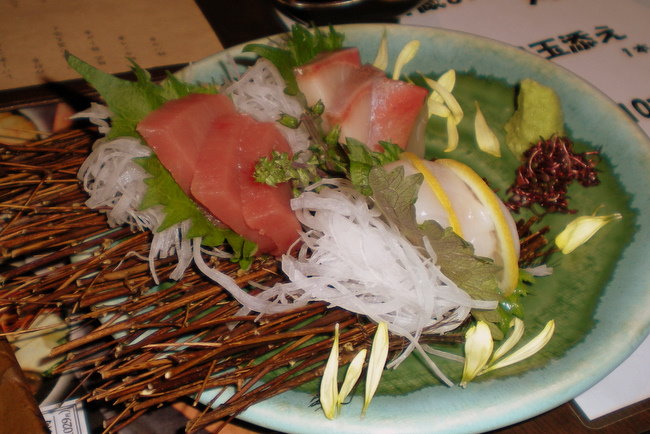 NEWS UPDATE: Spatula, Spoon and Saturday has moved to a new home of SpatulaSpoonAndSaturday.com. Please update your bookmarks and feeds accordingly. If you see any broken links/images, please let me know by leaving a comment at the comment section of each post. Your help will be much appreciated. Thanks!
I think it's about time I share you the rest of the photos from our honeymoon trip. Granted, it was a while ago but still better late than never (although my English teacher Mr Cadman used to say 'better never late!' – wait have I said that before?) Since I never got around to writing more individual posts about Japan, I will just split them into cities.
This one, and the next one, and possibly the one after that, will be all about Tokyo – my favourite Japanese city. Yes, they will be epic posts.
We'll start off with some pictures from the small supermarket near our hotel.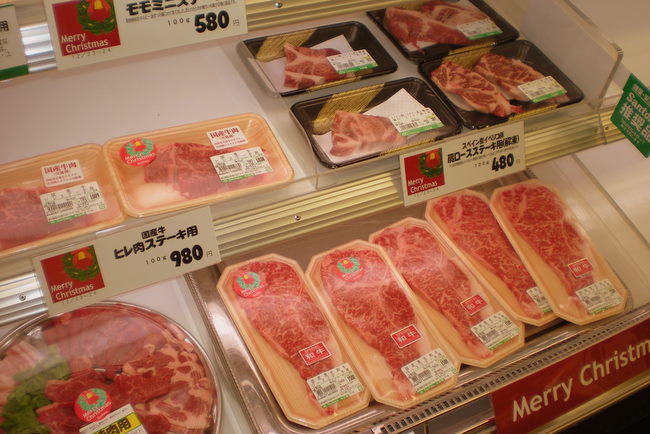 Wagyu, baby!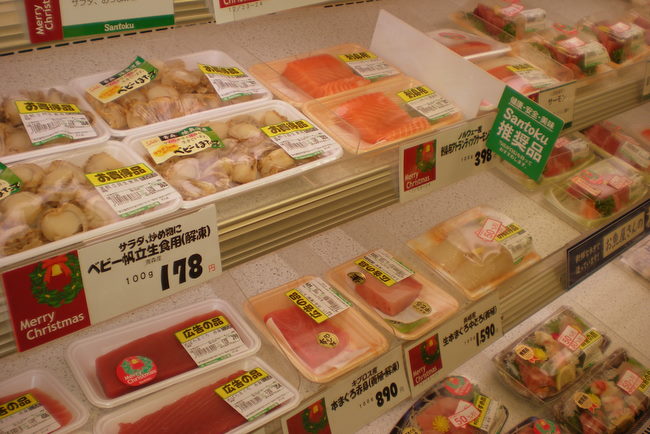 Sashimi and seafood counter. Wow.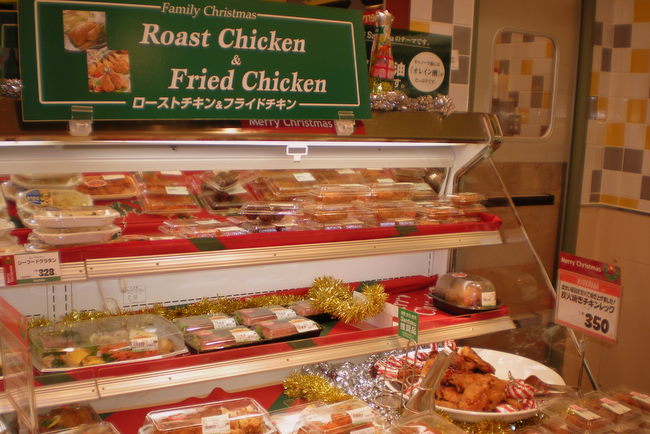 We were in Japan around Christmas time. It seems like chicken is what the Japanese associate with Christmas. Every supermarket we went to (hey don't look at me like I think a foreign supermarket is a tourist attraction!) they had a chicken counter like this.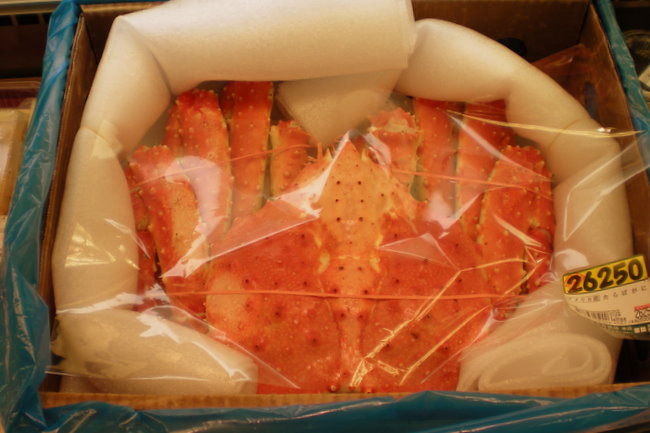 Moving on to a food hall at the bottom of a department store. Tokyo department stores seem to have large food halls located in the building somewhere. The array of foods for take away and fresh ingredients were amazing. Check out the size of this crab!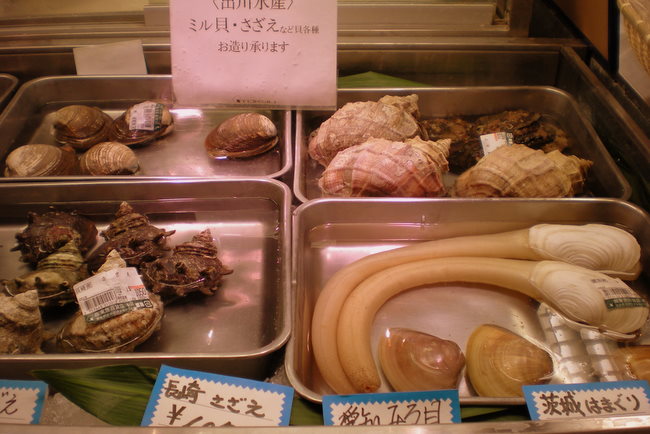 Don't ask me what these were! I have no idea. I should have taken more photos but I was just so overwhelmed that, for once, I didn't manage to take pictures. Note: Japanese tourists in Japan act like Japanese tourists everywhere else. I would totally not have been out of place snapping pictures of everything.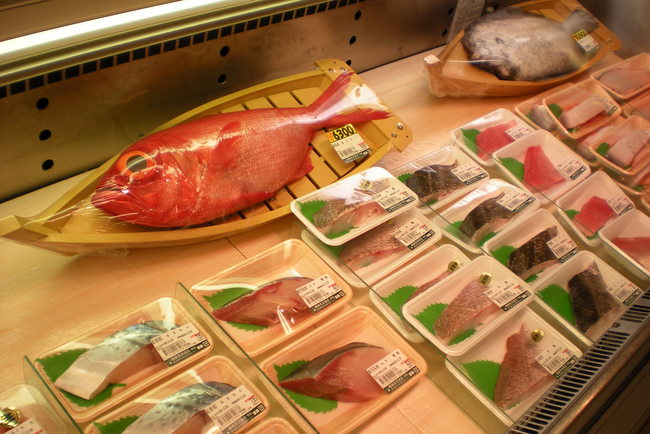 More fish. I wonder if these are meant to be eaten as sashimi. Because in Japan, you just never know.
Moving on to the outdoors, wandering the streets of Tokyo.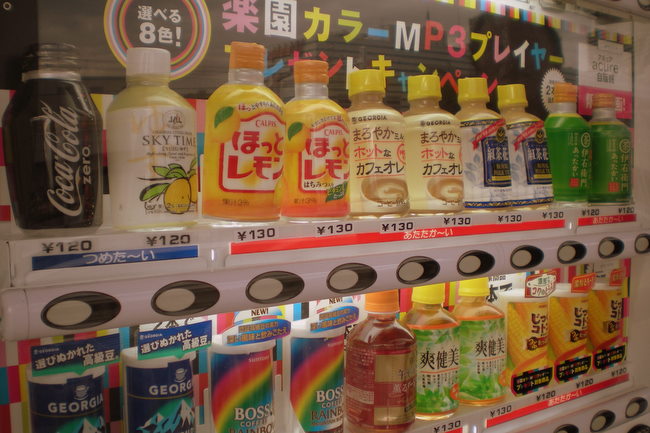 Vending machines in Japan are just too awesome. So bright. So colourful. I just wanted to try them all. And I'm really not into sweet drinks.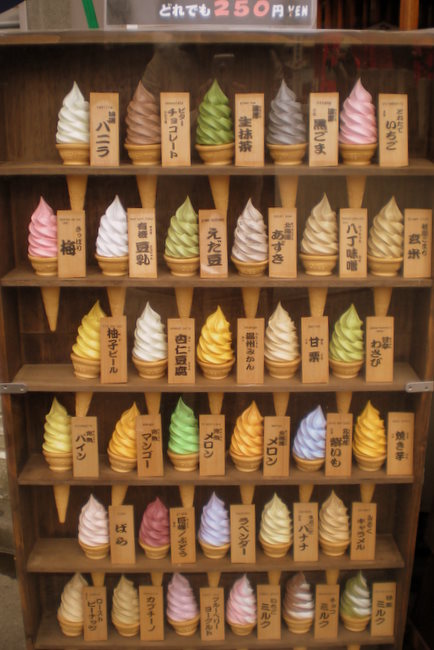 Various soft serve flavours in an ice cream shop in Asakusa (it was winter!) – with flavours like green tea, black sesame, sweet potato, lavender, miso, brown rice, rose, grape, wasabi, purple sweet potato, yuzu and almond, who wouldn't want one! I went for lavender – which was purple (tick), strange (tick) and very very lavender-y. Too awesome.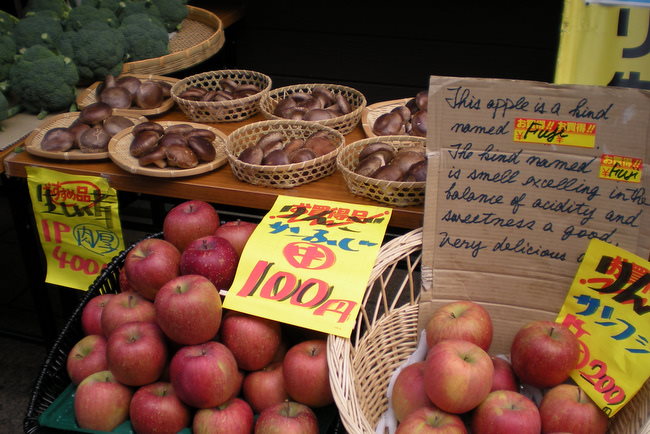 This roadside stall was selling the most perfect Fuji apples I have ever seen. So fresh and so perfect.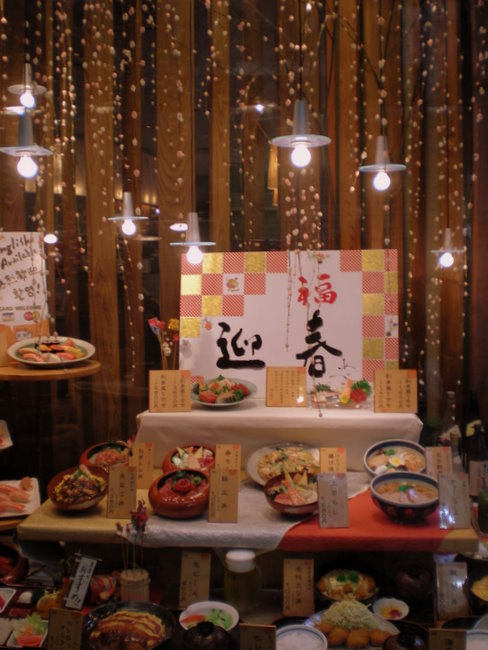 Wonderful, glittery display of your… fake lunch!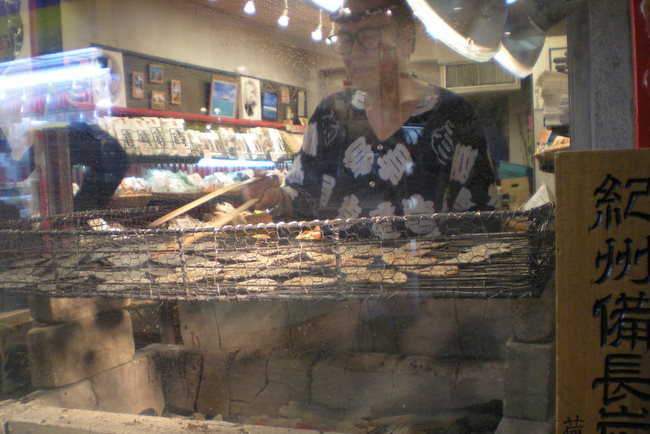 Japanese rice crackers being grilled over charcoal. Too awesome for words. Especially when it's winter and you just want to stand there and watch forever.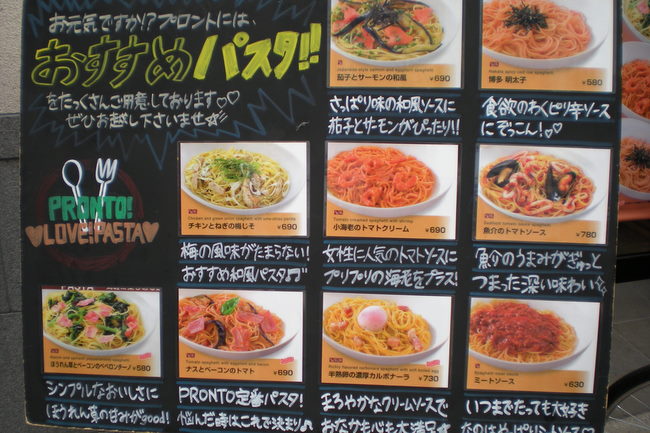 Pronto! Love! Pasta! Need I say more?
Back inside for a bowl of the classic gyudon.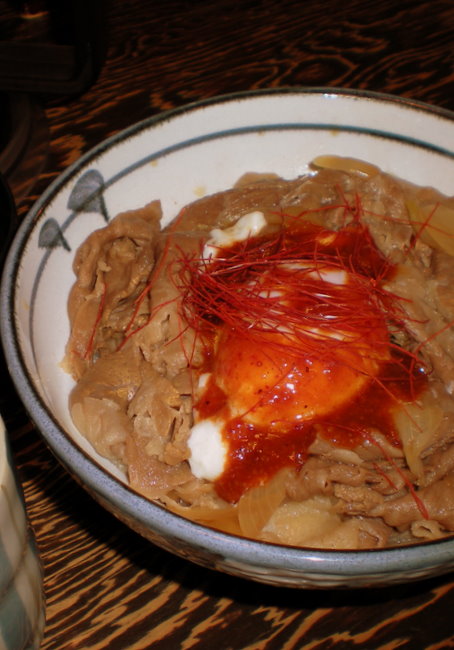 The super awesome gyu-don (rice bowl with beef and onion) with the optional poached egg, kochujang (Korean chilli bean sauce) and dried red pepper strips. I think this was meant to be a Korean take to the traditional gyudon. Luckily, they believe in picture menu in Japan.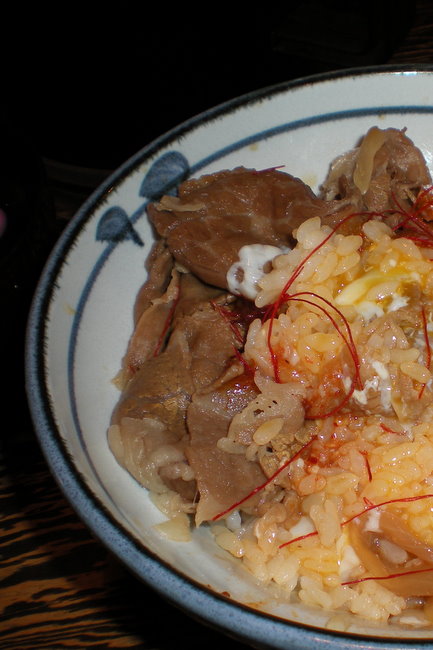 Mixing in the egg, oiishi desu!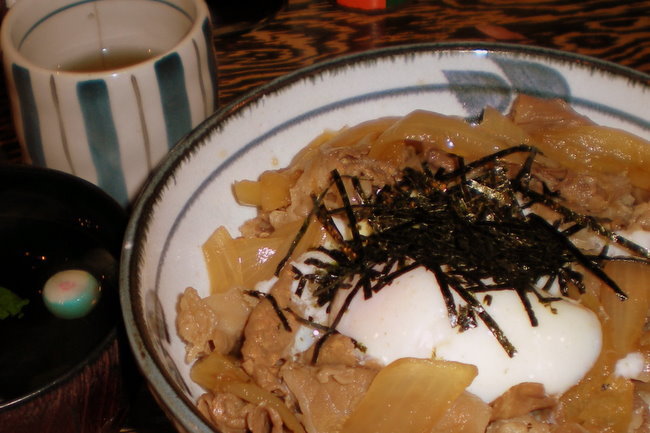 The traditional gyudon – accompanied with complimentary green tea and miso soup.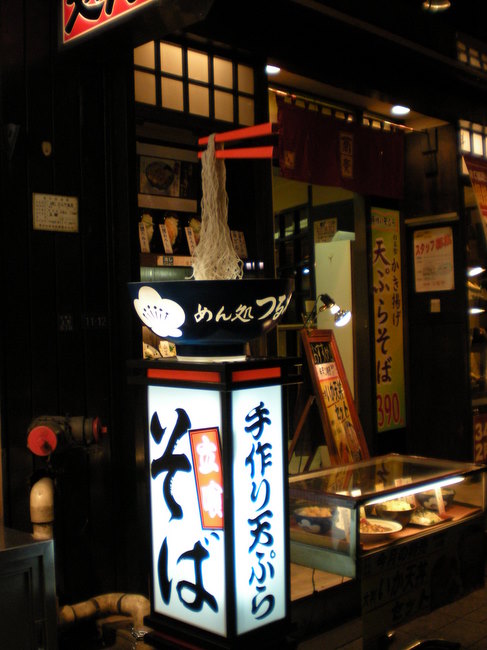 Now, imagine if you're a Japanophile fangirl like I am and you come across this restaurant sign post. It's not just a large noodle bowl but these chopsticks and 'noodles' were moving up and down as if being eaten. I stood there and gaped at it like an idiot before furiously taking pictures. I really ought to have taken a video. But sadly, it was a brand new wedding present camera and I hadn't learned to use it properly. This is also the reason most of the pictures I took in Japan are quite poor.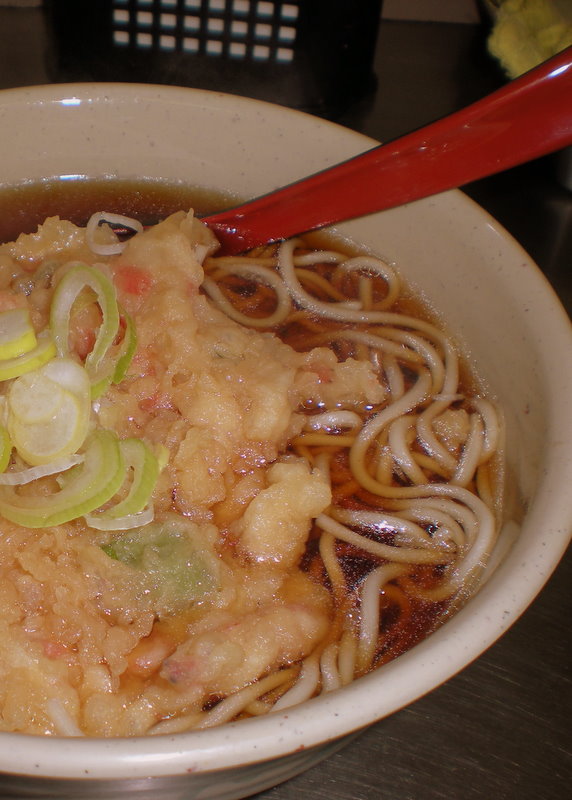 (Soba noodle soup with kakiage (mixed) tempura)
This was possibly our worst meal in Japan. Having said that it was quick, cheap (300 yen – about A$3-$4) bowls of noodle soup at the train station. It wasn't bad at all and you can probably compare it to a typical bowl of noodles you get at a Melbourne food court but everything else in Japan was just so good these bowls of noodles paled in comparison.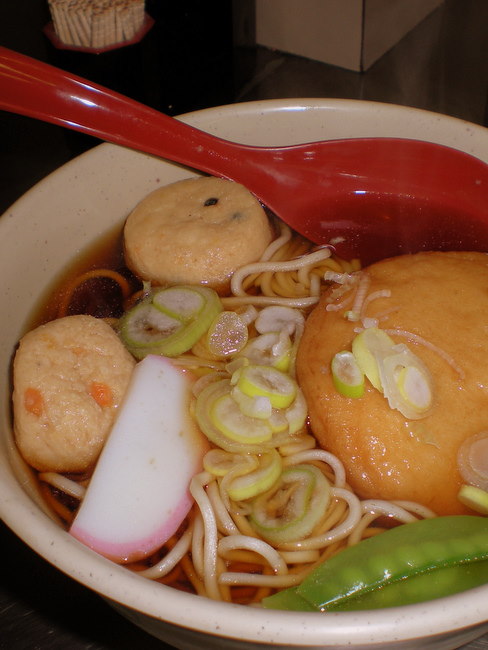 Josh opted for vegetables and various Japanese-style fish cakes. Again, rather average. But cheap! We had just got back from our day trip to Mt Mitake for the day and were starving. A little pre-dinner snacks, if you will.
Into yet another yakitori joint, which luckily had English menu and an English-speaking waiter.
I apologise about this set of photos in advance. Not only the camera was new, I was also drunk on the pre-dinner umeshu. Yes, it's sad but it was a fabulous meal. Bear with me.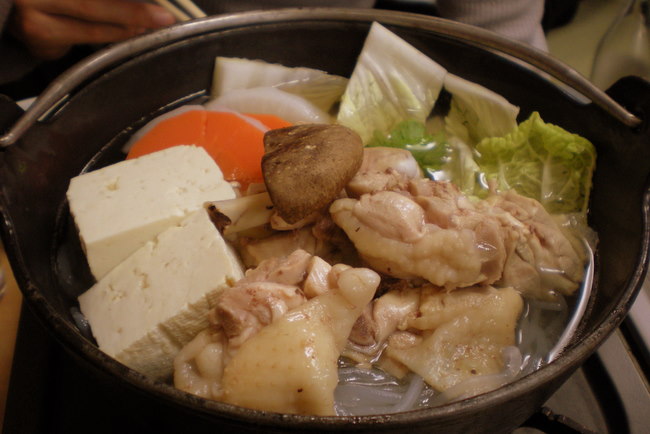 The favourite chicken hot pot. Most yakitori restaurants sell this hotpot. It contains precooked chicken, various vegetables, tofu, noodles and stock. The idea is it gets brought to you at the start of the meal and sits there simmering for good 20-30 minutes and you tuck into it at the end after you polish off everything else. The seafood version is also popular.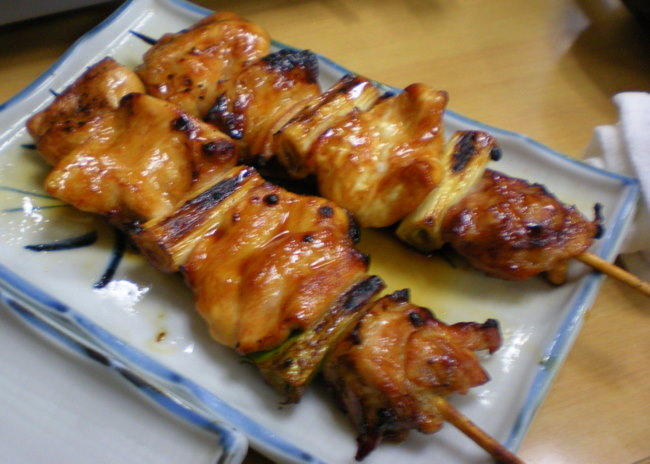 Charcoal-grilled chicken skewers with teriyaki sauce (this is what teriyaki looks like, people).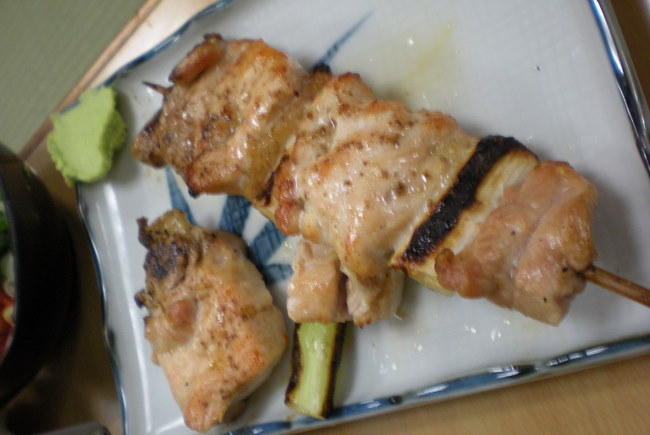 Salt-grilled – an alternative version of yakitori.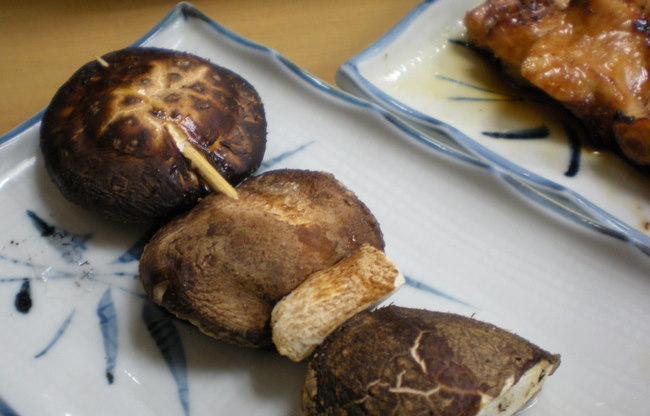 Grilled fresh shiitake mushrooms. It never failed to amaze me how the Japanese made simple, but perfect, ingredients into the most wonderful food creations. Respecting the ingredients is one of the cooking principles I strongly believe in.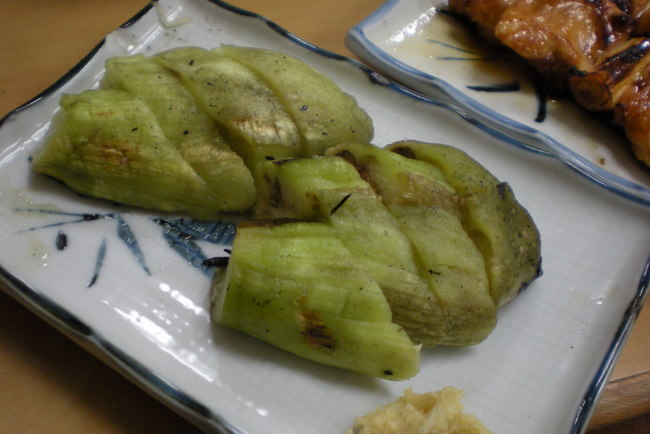 Grilled eggplant. Smokey, sweet, tender eggplant. Served with grated ginger and a dash of dipping sauce. So goddamn delicious.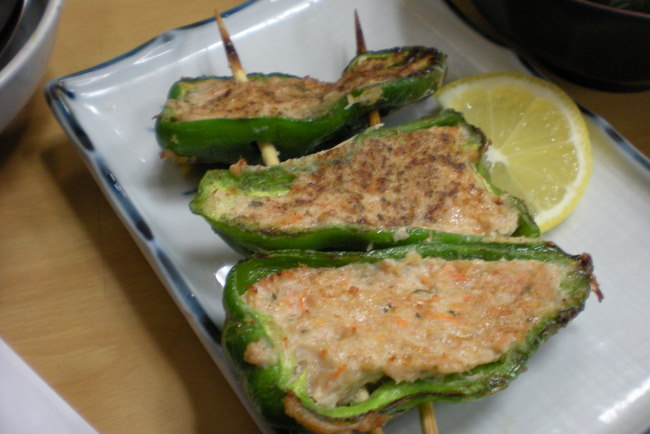 Grilled capsicum stuffed with minced chicken.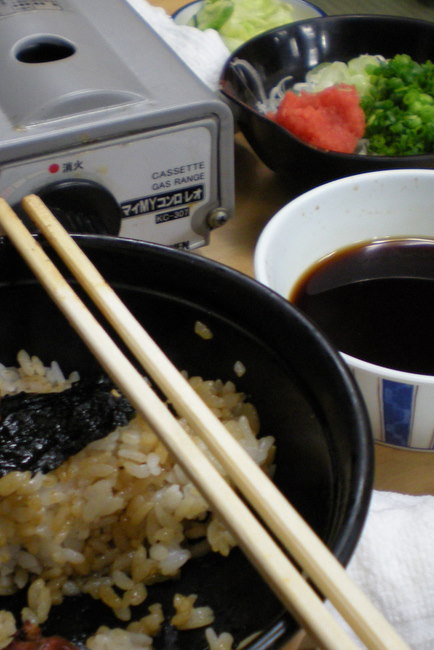 Half eaten rice bowl with grilled chicken liver in teriyaki sauce. I think this was the best dish. Hands down.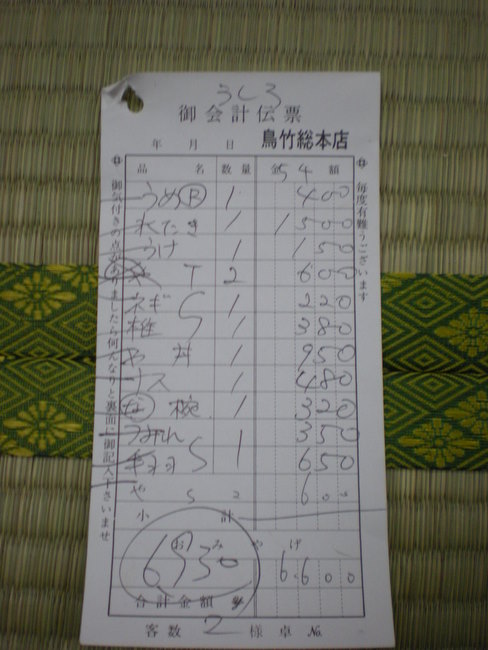 Here's the bill if you can read Japanese. Does this make up for not having all the proper pictures?
And we're off to the local convenience store (I think it was an AM/PM) where we often bought our breakfast.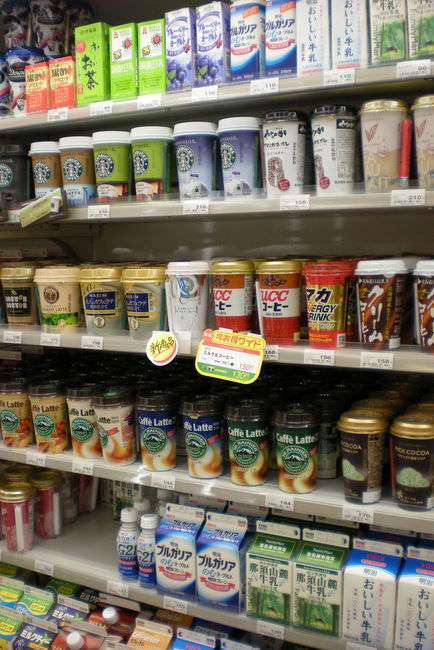 This is a part of their coffee collection. You can have it hot or cold. The range is just baffling.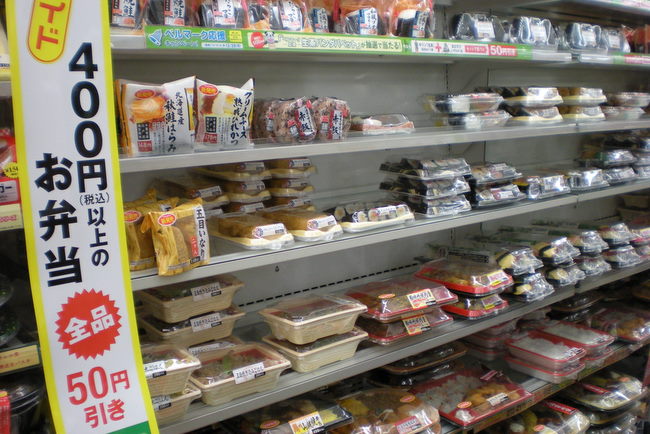 As if the drinks aren't enough – we have the lunch boxes and the rice balls. The top shelf carries various flavours of onigri. These are awesome, people! The nori and the rice gets packaged separately (so there's a trick to opening it) and so the rice balls stay fresh. We ate a couple for breakfast almost every morning. Below are the various popular Japanese dishes everyone knows and love.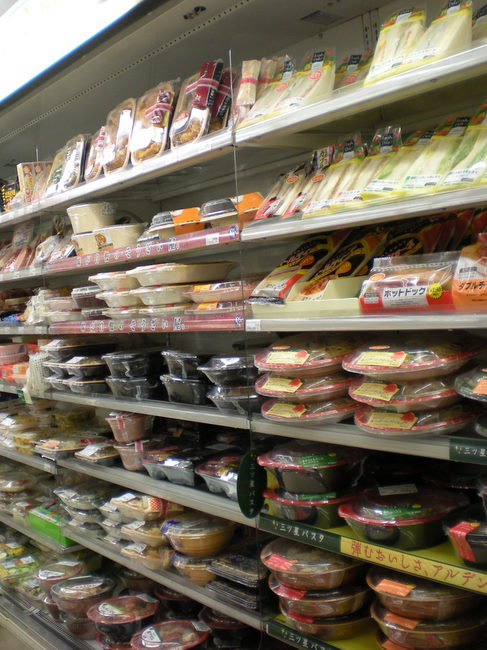 More sandwiches, donburi (rice bowls) and various other food. To be perfectly honest, if we were just to eat exclusively from the convenience store, we would have eaten relatively well! (Don't look at me as if I think convenience stores are a tourist destination!)
Pokemon ice cream at a nearby 100 yen shop.
Stay tuned for the next installment of Food, Love & Tokyo (Part II)
Previous Japan posts:
Japan Food Review: An Izakaya in Gion, Kyoto
Japan Food Review: Gyudon at Gyu No Chikara, Ueno
Japan Food Review: Omuraisu at Apple Tree in Harajuku
Japan Food Review: Our Tokyo Breakfast Adventures
Japan Food Review: Japanese Desserts in Ueno
Japan Food Review: Yakitori @ Torizou, Ueno
---
---