Japan Food Review: Yakitori @ Torizou, Ueno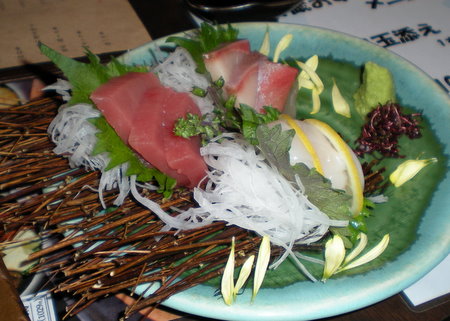 This is going to be the start of many many posts on the food we ate in Japan. We went to Japan about two weeks for our honeymoon during Christmas/New Year. The trip would basically go down as one of the best times in my life.
But I digress. We were staying in this little hostel (seriously little) near Minami-senju in Tokyo and we were meeting up with my friend Hideyuki who is from the Accenture Tokyo office. He took us to this most wonderful yakitori place in Ueno. It was our first real sit down dinner in Tokyo. I could not believe how everything tasted so wonderful and how much care went into the presentation and quality of the food.
We were given the standard pickle (most Japanese-style restaurants in Tokyo gave us one before every meal). Sorry the picture isn't that great but I was too hungry and excited to care about the quality of the photos at the time. The blue bits were eggplants. Not too sure why they dyed it blue. I saw some pink ones at the supermarket too.
After we ordered (rather Hide ordered, we were just overwhelmed and the menu was in Japanese), the waiter brought the boys a little appetizer each:
I was like, 'what? Where is mine?' Hide called the waiter and said there were three of us for dinner. To which, the waiter replied 'Oh, children don't get this appetizer.' I was like, excuse me?! Apparently, he seriously thought I was a child. I didn't know whether to be flattered or hurt when being mistaken for a child. A young woman, maybe. But a child?
Anyway, it was some sort of indescribable jellied stock. I really didn't know what it was.
We started with the real order when our sashimi platter for three. There were two types of fish and Japanese scallops (hotate). I have to admit ignorance here but I really don't know much about fish in sashimi. My guess is that the red one was tuna (maguro) but I have no idea what the other one was. The plate was beautifully presented with a bed of twigs (not too sure of the significance here), shredded daikon, shiso leaves, chrysanthemum petals and there were these amazing little sprouts. I have no idea what they were. They were served with sushi pretty much everywhere we went. They are the purple sprouts in the top left hand corner of the photo. They were awesomely peppery. And of course, fresh, grated wasabi. Just the first course absolutely blew our minds away. As I type this, I feel like stopping blogging and go off to find cheap tickets to Japan!
But c'est la vie! We must proceed to the next entrée, warm tamagoyaki, Japanese-style omelet. I have had a few tamagoyaki in my time outside Japan (and was never impressed with them) but this was the very first time I had it warm (it's usually served cold with sushi platter outside Japan) and it wasn't sugary sweet like those you get outside Japan.
We had chicken hot pot and seafood hotpot (seems to be a yakitori restaurant staple). It's basically some chicken pieces, mushrooms, vegetables and a tiny bit of chicken stock.
The seafood one had various fish, tofu, shellfish and veggies.
They came with burning something-or-other underneath. The trick is to let the soup simmer for quite a while (Hide wouldn't let us touch it for almost half an hour) – this was when a lot more soup appeared out of nowhere. They were so delcious that I almost licked the hotpot clean!
Meanwhile, our yakitori arrived. Two skewers were shio (salt) and two were tare (teriyaki sauce). I can't remember what the green things were. Probably lady's fingers. Definitely yum.
This was the chahan – Japan-styled fried rice with pork belly. Although, if you ask a Japanese, they consider all fried rice dishes to be Chinese. Again, I almost licked the plate clean. The pork was very fatty but somehow the dish wasn't at all heavy. Maybe I was just a greedy gut?
Last one, kimchi-au-gratin. Seriously! Kimchi-au-gratin! Baked kimchi with cheese. It was surprisingly good.
Yes we ate a lot that night. I thought I had died and gone to food heaven. If you ever wondered where food heaven was, it's called Torizou. It's near JR Ueno Station in Tokyo. Don't ask me how to get to it. I really cannot remember.
---