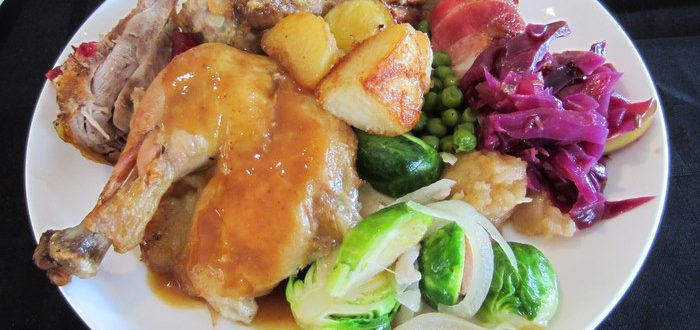 One of the perks of being a food blogger is the opportunities to get to be friends with other food-obsessed people. So why would we pass on a chance to have a massive feast in honour of a celebration that is well known for stuffing ourselves to the gills when it's not even the time for it?
—- Our Kind-of-British Winter Christmas Menu —-
Drinks:
Eggnog, mulled wine
Roasts:
Roast chicken, roast turkey, roast pork with crackling
Sides & Vegetables:
Apple & chestnut stuffing, carrots in white sauce, minted peas, braised red cabbage with apple,
Brusselsprouts with bacon and onion in white wine
Sauces:
Cranberry sauce, apple sauce, chicken gravy, roast pork jus
Desserts:
Christmas pudding with brandy custard, Frangelico trifle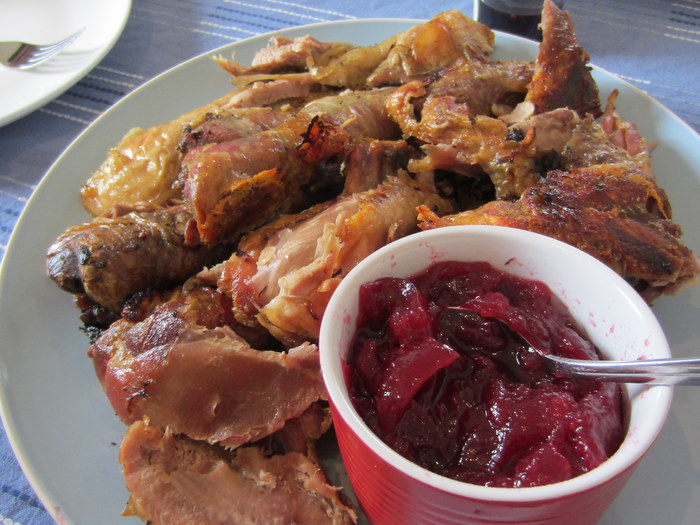 (Roast turkey and cranberry sauce made by Agnes of Off the Spork)
Luckily, being in the southern hemisphere, the chance to celebrate Christmas twice a year is justified by the fact that Christmas always falls in the midst of Summer heat and, while many of us always have roasts on Christmas Day in December anyway, we conveniently 'forget' and jump at the chance to have an epic Christmas roast feast in the lovely mild Melburnian Winter.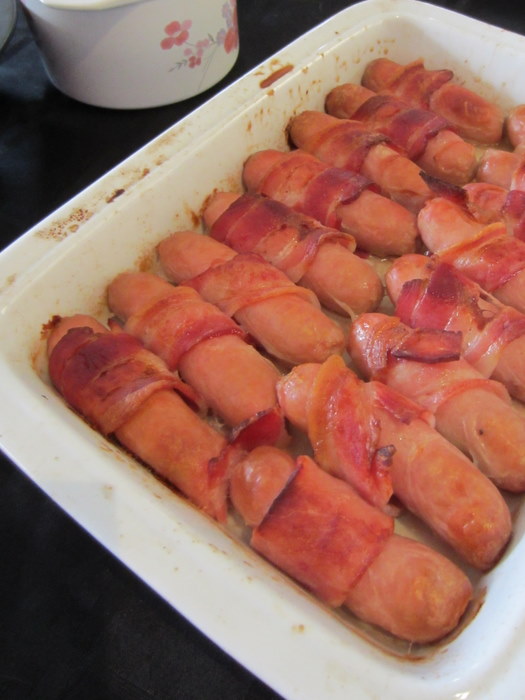 (Pigs in blankets – pork chipolatas wrapped in bacon by Kat of Urban Cook's Journal)
This year, I had an idea to do a traditional British Christmas lunch feast and somehow, I don't know how, managed to convince others to go along. Believe me, it was hard getting people to warm up to the idea of eating Brussel sprouts as a part of their Christmas feast!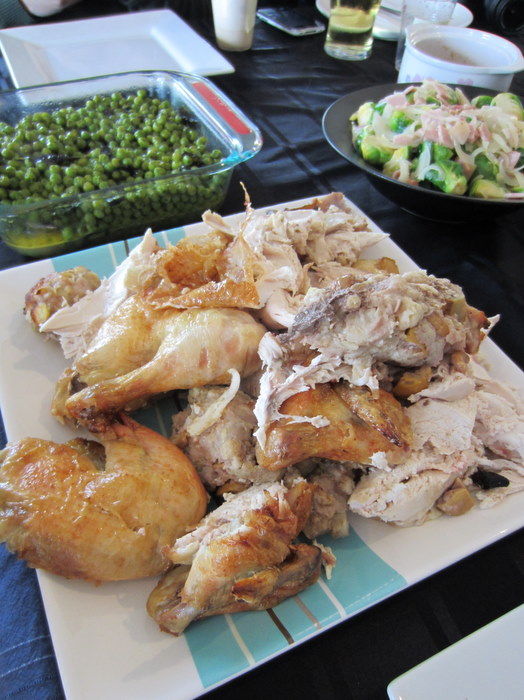 (Roast chicken made by Agnes of Off the Spork)
We started off with lovely Wintry drinks of egg nog and mulled wine. Thanh, of I Eat Therefore I am, who often proclaims himself to be a novice cook had made an absolutely gorgeously rich and silky egg nog. As Agnes put it, 'this is scarily good' – a few of us tucked into the luscious drink early at the expense of our appetite. Agnes, in addition to being our most gracious hostess and making lots of scrumptious dishes, also made the mulled wine. Unfortunately, I didn't try any. A missed chance!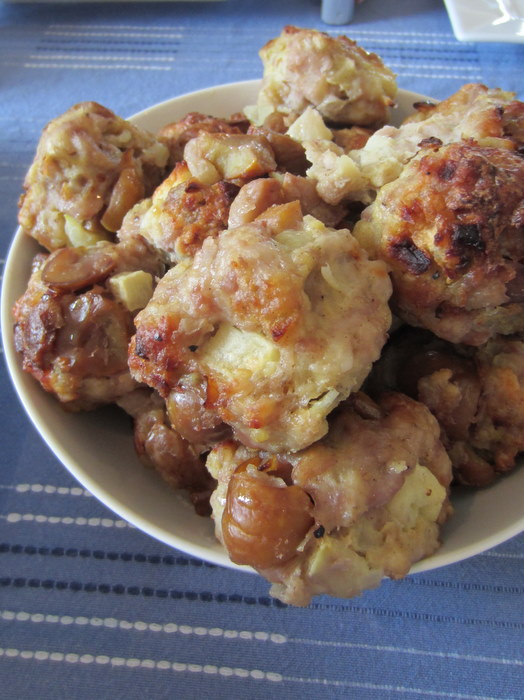 (Apple and chestnut stuffing by Agnes of Off the Spork)
The feast was a roast bonanza deserving of Winter Christmas all right – we had a spread of luscious roast chicken with gravy and turkey with cranberry sauce made by Agnes. She also made very good apple and chestnut stuffing (at my insistence of having chestnut stuffing!) – she made a batch that was stuffed inside the chickens and some to spare. It wasn't the prettiest looking foodstuff but by god it was delicious!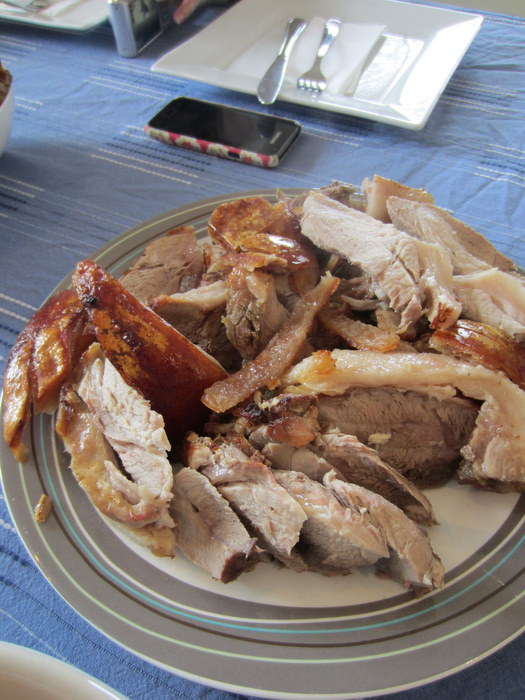 (Roast pork with crackling served with apple sauce made by me)
I made some roast pork at the last minute request of 'MORE MEAT!' by I Hua. At first I decided on lamb but ended up with pork because, let's face it, who doesn't love a good crackling, and I couldn't get decent lamb at the last minute. Amazingly enough the crackling turned out perfectly. I personally had never produced roast pork with perfectly even crackling before (see: my previous attempt at roast pork). I think it must have been Agnes' cool (or rather, hot) oven! I also made some quick apple sauce from our stash of past-eating apples from our country property (see recipe below)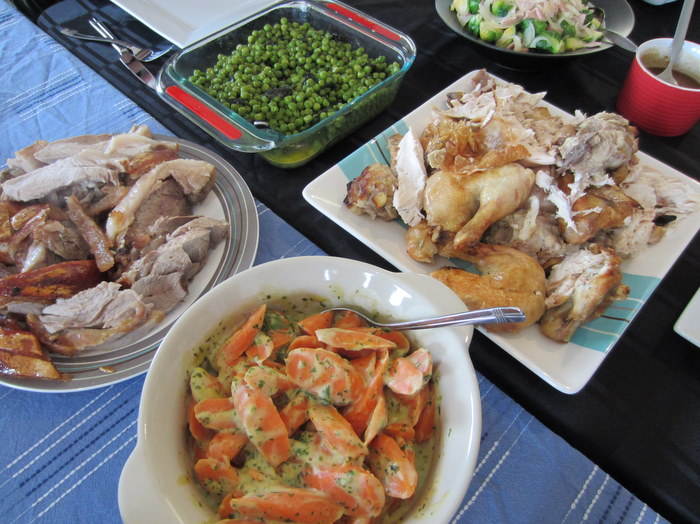 (Carrots in white sauce by I Hua of the Chronicals of Ms I Hua)
Kat of Urban Cook's Journal had volunteered to do another classic British Christmas item – pigs in blankets – chipolatas wrapped in bacon (again at my insistence). I must have eaten about ten of them because I am such a sucker for smallgoods!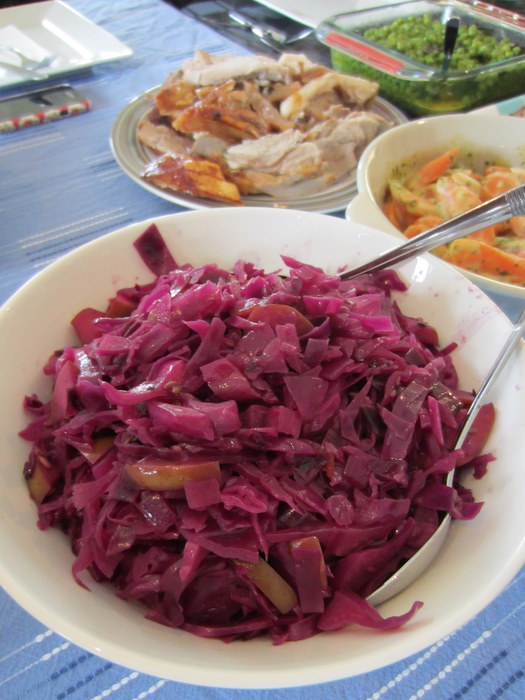 (Braised red cabbage with apples by Kat of Urban Cook's Journal)
She also made the loveliest braised red cabbage with apples and spices. The perfect sweet & sour accompaniment to cut through the roast grease. She had added lots of lovely spice to the braise and it was perfect with the roast pork.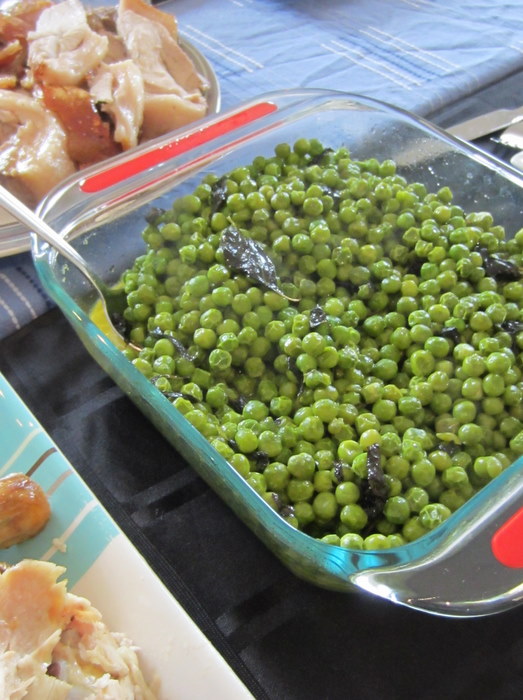 (Minted peas by I Hua of the Chronicals of Ms I Hua)
I Hua of the Chronicals of Ms I Hua was tasked with 'peas and carrots' had transformed the simple steamed peas and carrots into the buttery minted peas and carrots in rich white sauce. Both Agnes and I Hua weren't keen on peas – how could anyone not be keen on peas? They are so lovely. I took home the leftover peas and mashed them up with baby rice for Mini Me – who absolutely loved them.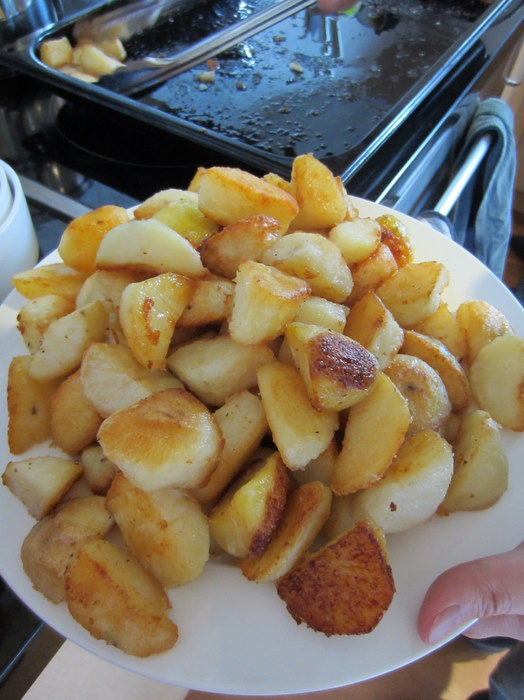 (Roast potatoes with duck fat made by me)
You couldn't really have a roast lunch without roast potatoes. I did up massive four kilograms of potatoes for the thirteen of us. They were briefly parboiled and tossed around to create rough surfaces that become crispy, crunchy bits once roasted in gorgeous duck fat.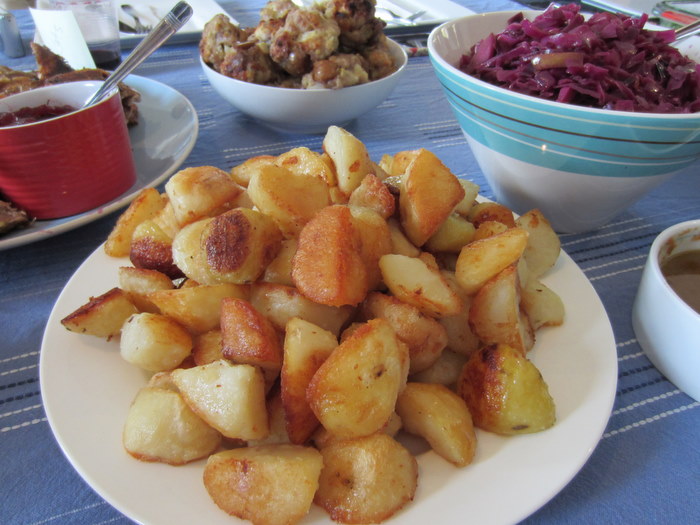 (yummy roast potatoes)
Once you discover the joy of duck fat roasted potatoes, there is no turning back.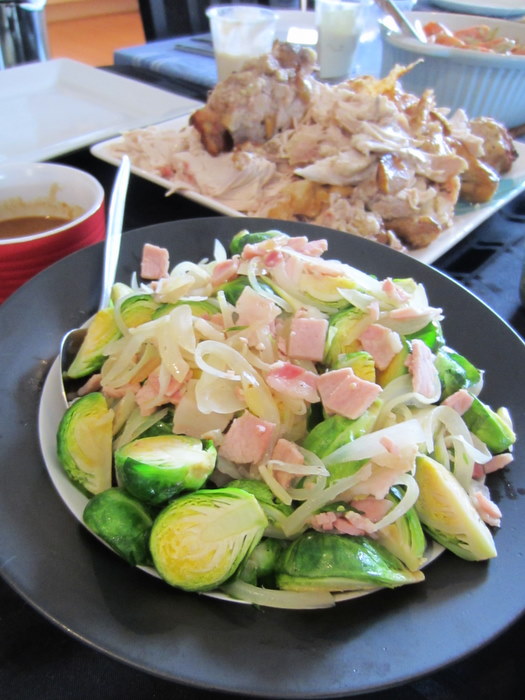 (Brusselsprouts with bacon and onion in white wine made by Josh)
Just to finish off our array of meat and veggies, Josh made our family favourite Brusselsprouts (recipe to come later) – the folks who weren't keen on Brusselsprouts didn't like them of course but if you don't mind them, this is the best way to cook Brusselsprouts – sautee in butter with bacon and onion, splash in white wine (or cider) and cook them very briefly. That's all you need for a good Brusselsprout dish.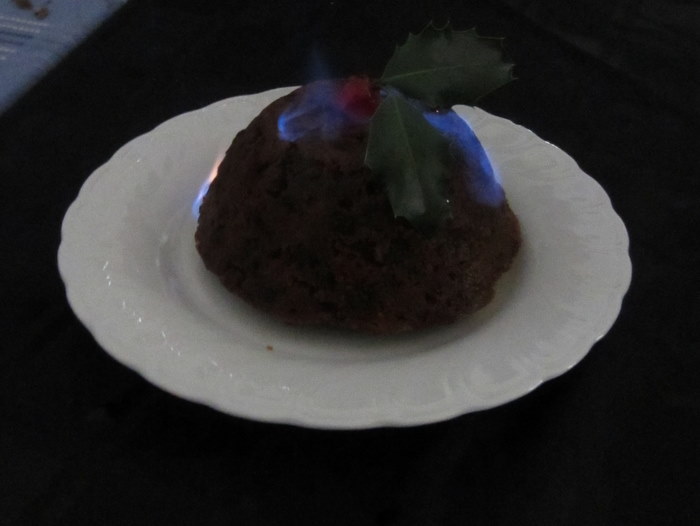 (Christmas pudding made by me)
And of course there'd be Christmas pudding. Being the last-minute sort of a person, I discovered a recipe at BBC Food and made that. I am pleased to announce that it worked. I decorated with a glacé cherry and some holly leaves Josh retrieved from the creek near home. After a few mishaps, we also did manage to light the pudding. I even sneaked in a five cent coin – which impressed noone (ah well). The pudding was served with a boozey brandy custard made by Celeste of Travelling in Mary Janes.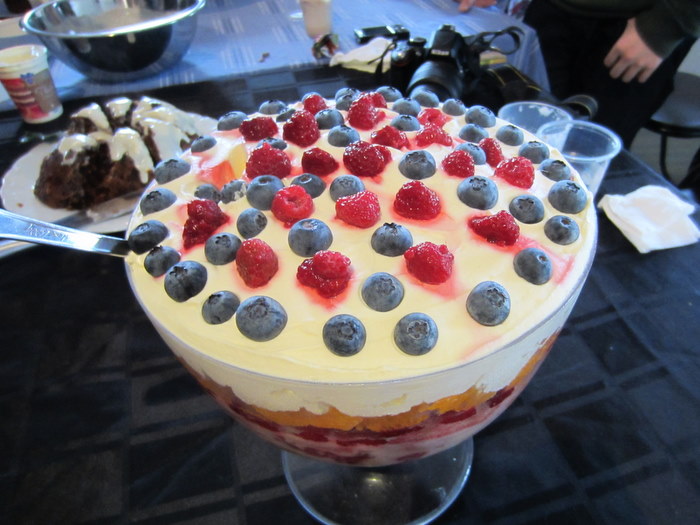 (Frangelico trifle)
But wait there is more! Adrian of Food Rehab had put together a very impressive display of one of the brightest trifle I have ever seen. It started with a Frangelico syllabub layer and the loveliness just kept on going with refreshing jelly and madarin layers topped with raspberries and blueberries.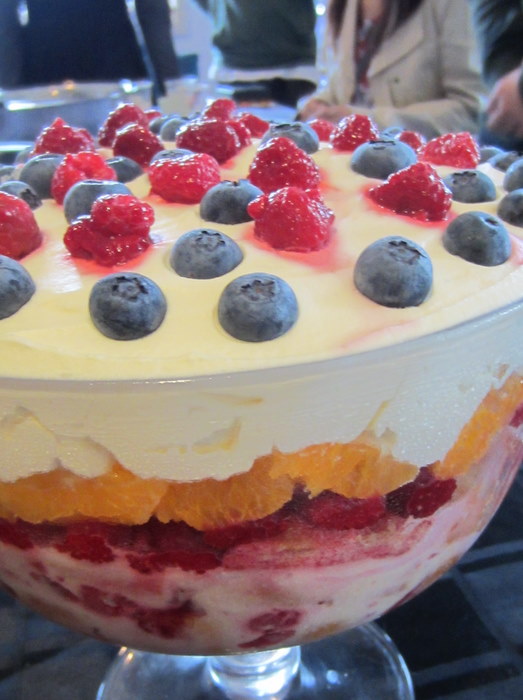 I tell you, my friend, as far as a Christmas feast went, this one was definitely one to remember!
 Simple Apple Sauce
4 cooking apples, cored, peeled and diced into 2 cm cubes
30 g butter
1/2 tsp cinnamon
1/2 tsp mixed spice
1 tbsp sugar
Add all ingredients into a heated saucepan on medium. Stir until the apples soften and release liquid. Close the lid and simmer for about 20 minutes. Mash the apples with a wooden spoon.
Don't forget to visit the blogs of the folks that made this feast happen and you might be lucky enough to find the recipes for these dishes.