Eating & cooking all the things in Melbourne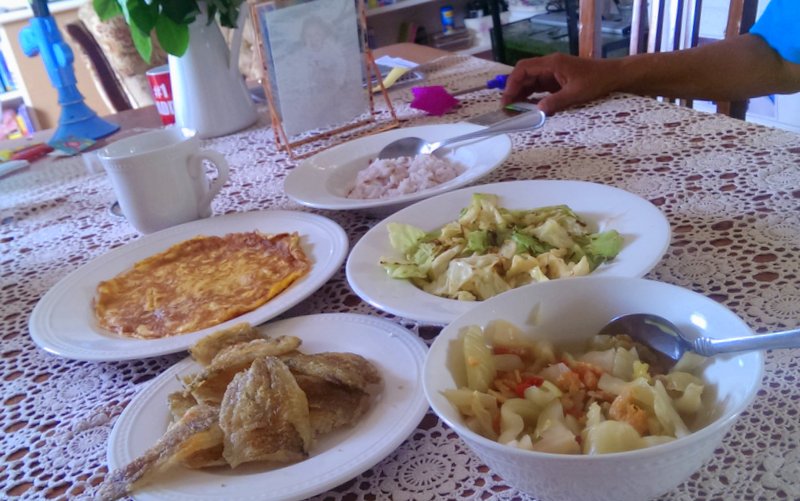 I realise I haven't wished all my readers (hi mum!) a happy new year yet. So happy new year 2018! May this year be filled with happiness, wellness and general all around contentment.
January has been a busy month. My parents visited over the Christmas/new year period. So the one thing I have done a lot is cook Thai-style breakfasts. My parents have a tendency to eat a really heavy breakfast and a light dinner. We ate khao dom (sloppy boiled rice) with various dishes. In picture clockwise from bottom left: pla salid (crispy fried salted salid fish), pickled mustard leaves and dried prawns 'salad', cabbage leaves fried in fish sauce, boiled rice and a Thai style omelet which admittedly I didn't do a very good job at making it fluffy like it should be.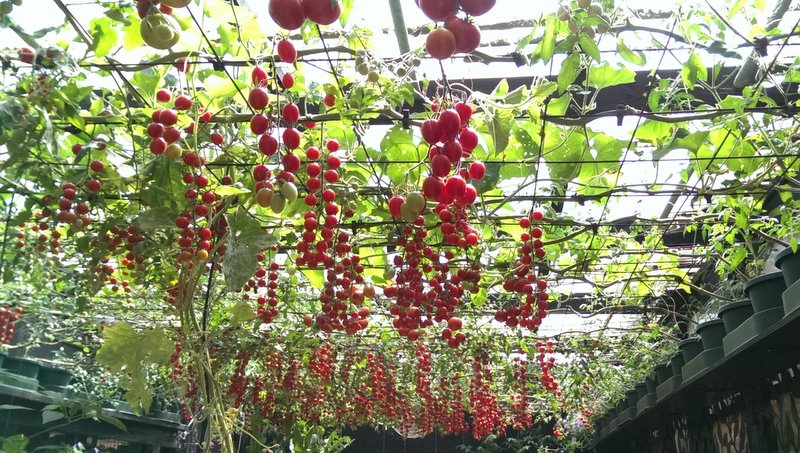 January has also been very productive gardening-wise. Our apricots fruited productively this year. But the highlight? Visiting Garden World on Springvale Rd. Their climbing garden is ah-mazing.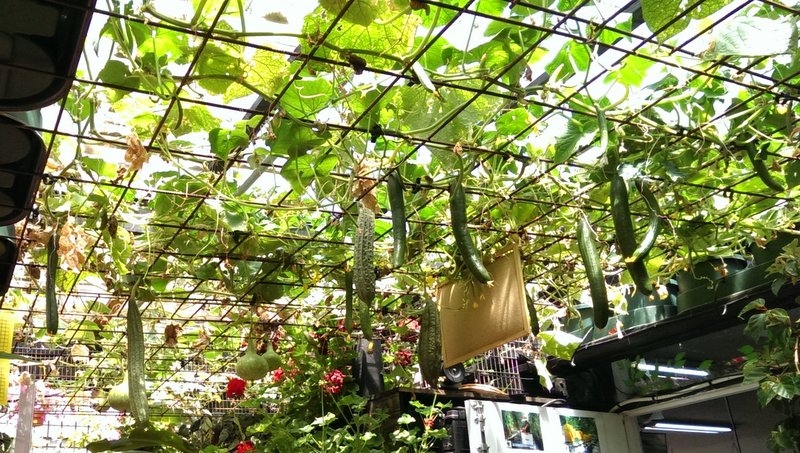 Look at this! How can you not want this? Coolest garden ever. In other news, Josh bought me lots of flowers (plants): David Austen roses and orange jasmines. Love.
The Victorian cherry season may be over but the Tasmanian cherries are still around. They are much bigger and prettier. But really, they taste nothing compared to the lovely Victorian cherries! But Tasmanian cherries are better than no cherries. I can't wait until next year! I may have to cheat and buy American cherries winter but don't tell anyone.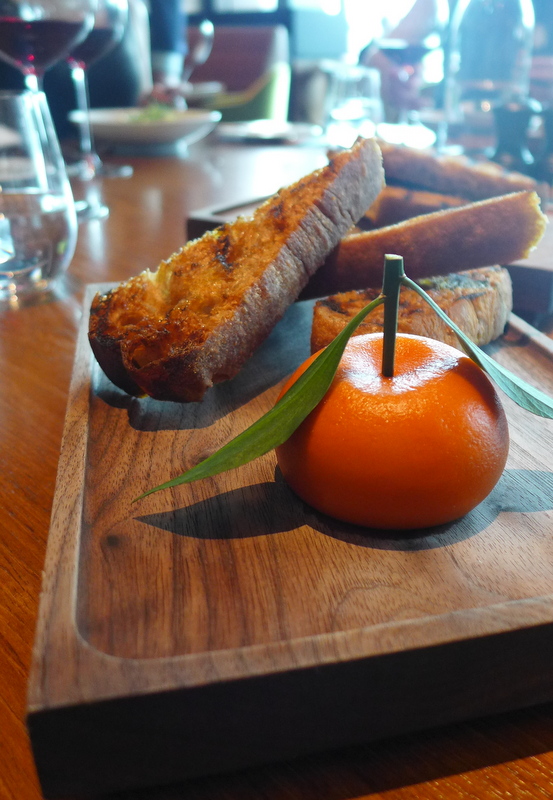 And lastly and definitely not the least…. (will obviously follow this up with a post)
---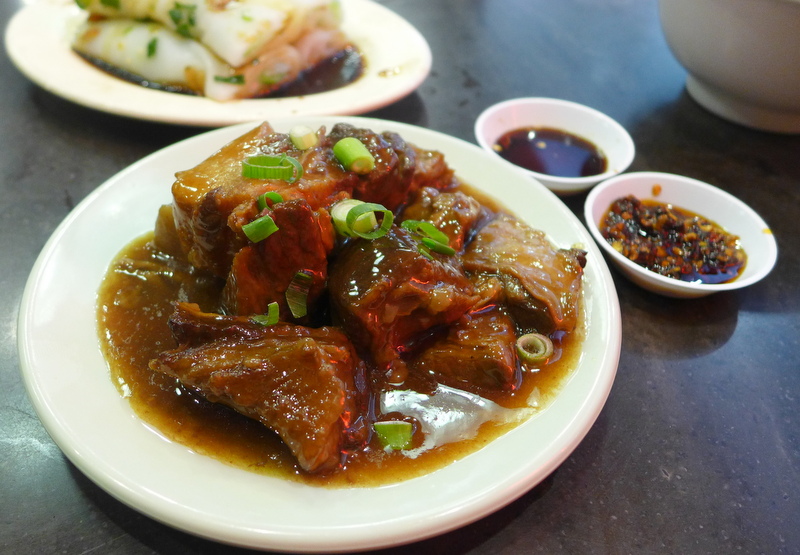 I previously wrote about Grain Asian in the Box Hill Central shopping centre. Not much has changed rather than the updated funky dining room with vintage Chinese theme and a very minor price increase on some of the menu items.
For those who haven't read my old post about Grain Asian, it is a Hong Kong style cafe that serves the typical drinks associated with Hong Kong cafes: Hong Kong tea and coffee, lemon tea, soy milk and their all-day dishes which include fried rice, noodles, Hong Kong style roast meats (duck, char siu, crispy pork belly, soy sauce chickens), won tons and yong tau fu.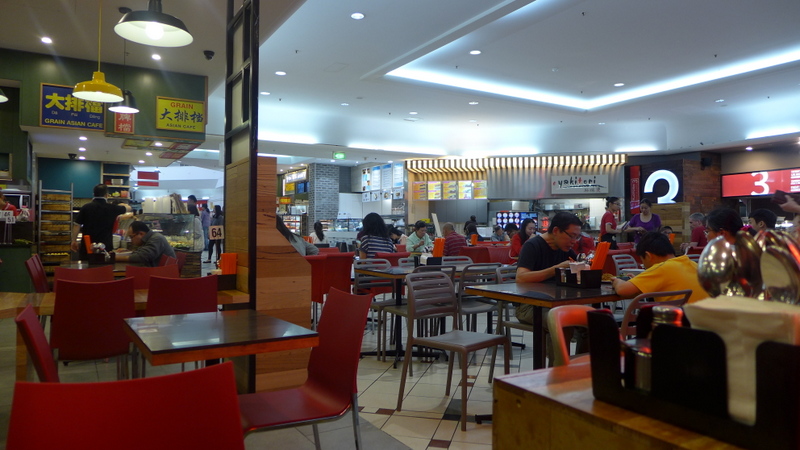 (Tables outside in the food court area)
Be warned that most of the staff speak very little or no English at all (when I try to order something complicated, I usually flag one of the guys there whom I know speaks English well) so you will need to be pointing to the Chinese version of the menu. If I'm there with lots of people, I always make sure that they repeat the menu back to me.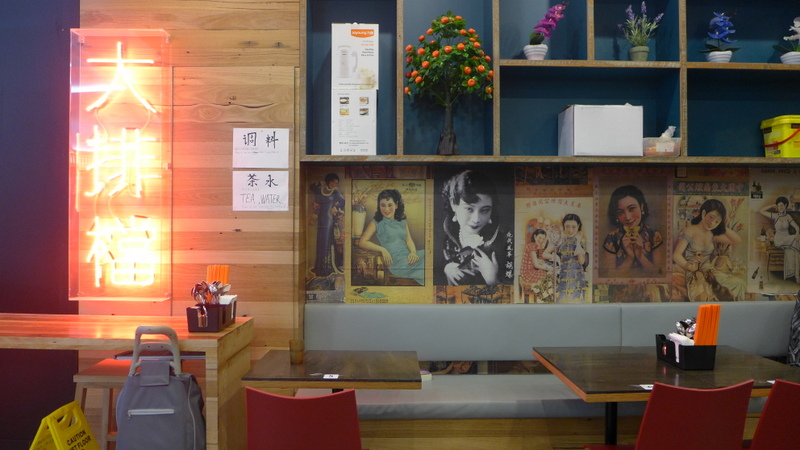 (Newly-ish renovated dining room)
I will concentrate on their breakfast menu in this post as I wrote about their all-day menu in my last post. Grain Asian has 'breakfast sets' – usually a selection of congee with a breakfast dim sum side dish.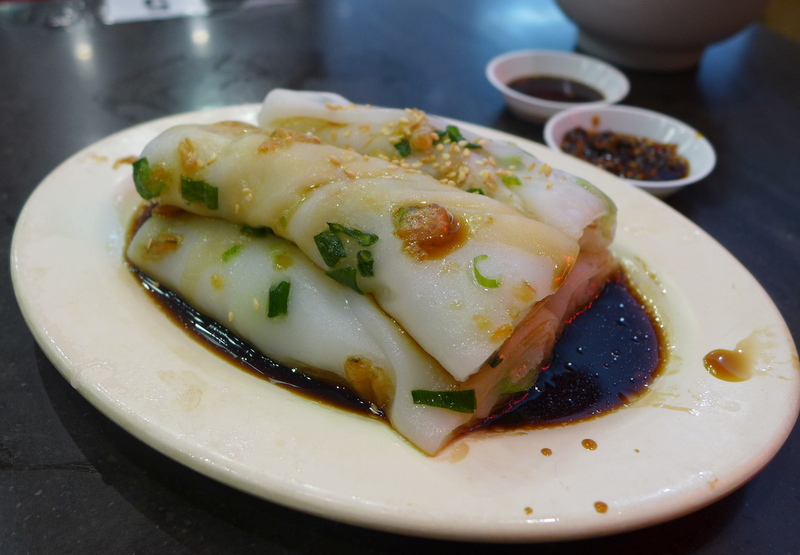 (Dried shrimp rice vermicelli rolls – around $5.XX)

My favourite breakfast dish at Grain Asian is their freshly made rice noodle rolls with fillings of choice. This is only available during breakfast hours (until 10:30am everyday except Sunday 11:00am) – they call this 'vermicelli rolls' even though there is nothing vermicelli like about it. The filling choices include prawns, shrimp (dried shrimps), beef, barbecued pork (char siu), vegetarian, and more.
Pictured above are dried shrimp vermicelli rolls as a result of ordering a vegetarian vermicelli rolls (!) But they were delicious nonetheless. Luckily, I'm not a vegetarian.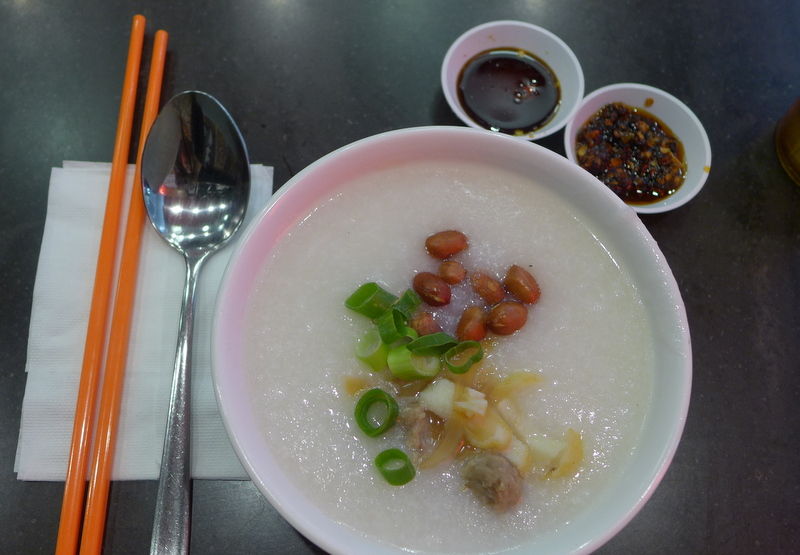 (Combination congee – $5)
Their congees are alright. To be perfectly honest, it's nothing like the beautiful, thick congee with quality meats that you get in Hong Kong. They even tasted burnt a couple of times. But as they work really well as a part of the set breakfast, I always end up ordering them. In fact, if you really want congee, Mr Kitchen up a bit does better congee (though still not great.)
My favourite congee is the combination congee which has fish cake strips, tiny beef meat balls, preserved squid and peanuts. This is also known as sampan congee. I am going to guess that it's the Chinese sailor's version of  pantry dishes like pasta alla puttanesca. Their pork and century egg congee seriously could do with more eggs.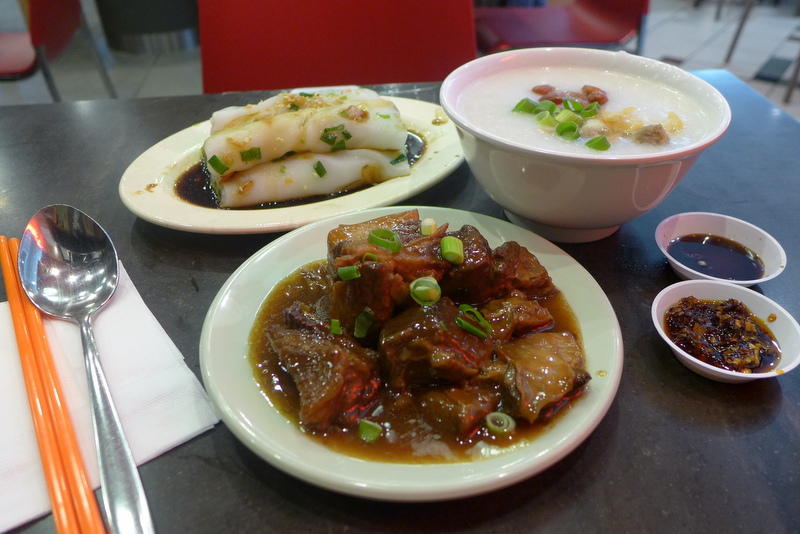 (Braised beef brisket $5)
One of the highlights I mentioned in the previous post was the beef brisket noodles. I am happy to say that they do a side dish version of this for $5. So I have been getting this as an additional side. I never finish it all at the same time, of course, but the leftover makes a great take away to have with rice and greens for lunch later. It's a gift that keeps on giving!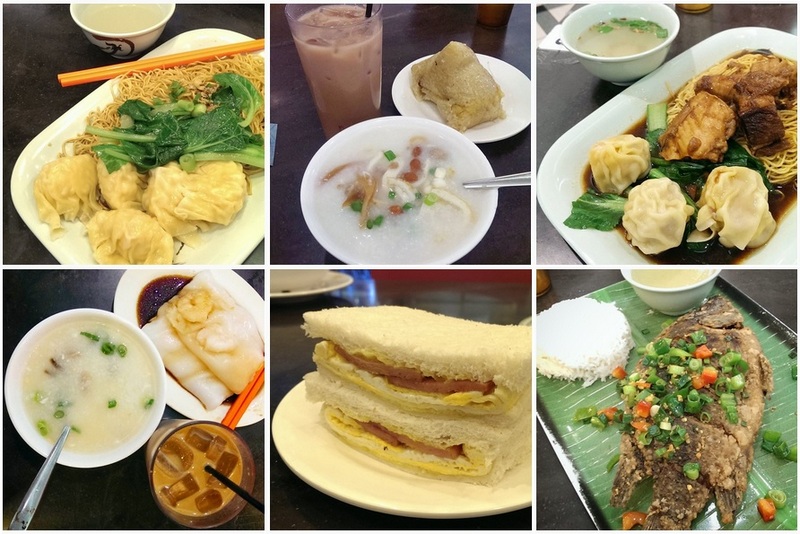 A few other things that I have ordered and enjoyed: sticky rice wrapped in lotus leaf (lo mai gai), barbecued pork buns, Spam & egg sandwich (Mini's favourite), iced Ovaltine, corned beef and egg sandwich and their whole fish dishes which gives you a whole fish with rice and soup for $13. Ridiculously cheap feed!
As I've visited a few times, my Instagram feed has a bigger collection of photos from there.
Grain Asian (in Box Hill Central)
Address: Cnr Main & Market Streets, Box Hill VIC 3128 (opposite to Platform 3 cafe)
Phone: 03 9899 6533
Getting there by Public Transport: Train to Box Hill Station (Belgrave/Lilydale line). The cafe is in the same building as the train station.
---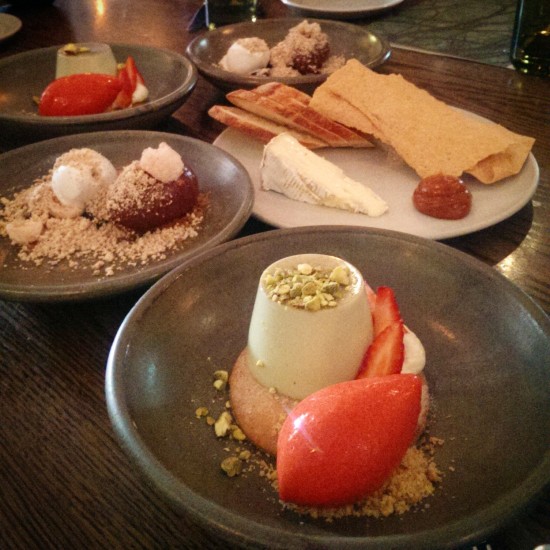 It had been a very long since we went to Cutler & Co but finally we were back! Hooray! Hooray for Cutler & Co! Talk about spoiler in the first sentence, huh? Well, I am a food blogger, not Agatha Christie.
It was a celebration of sorts, when six of us (including Mini, who was four) ended there on a Sunday afternoon. This was the second time we had Sunday lunch at Cutler & Co. The first time was for my 21st birthday. Well, one of my 21st birthdays, that is. And Mini was 6 months old at the time. With previous fine-dining-with-baby experience, which went well, I figured I would take a punt and take Mini again. What the hell, It was Sunday and more importantly Mum lent us her iPad.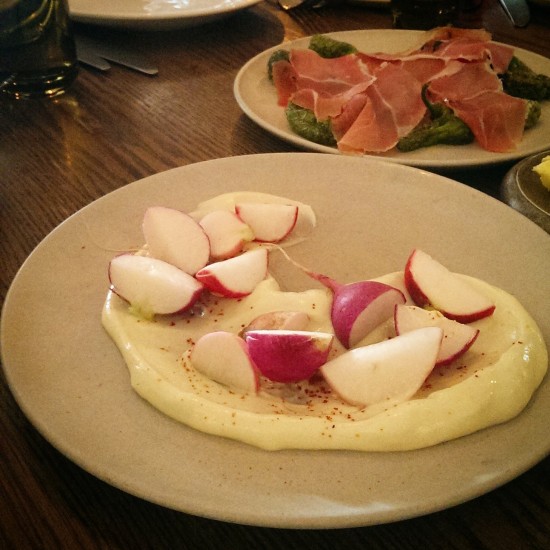 ('Whipped cod roe and radishes')
We got there slightly late, having found a free park (goal!) on the other end of Gertrude St. and had to walk the whole 500m to the restaurant (hey I just had major surgeries, I had an excuse to grumble every single one of those metre) I had forgotten how gorgeous the dining room was. Mum got there first and being a true tourist that she was, started taking photos and send them through the group chat that I was fortunate enough to be a part of. That was how much she admired the dining room.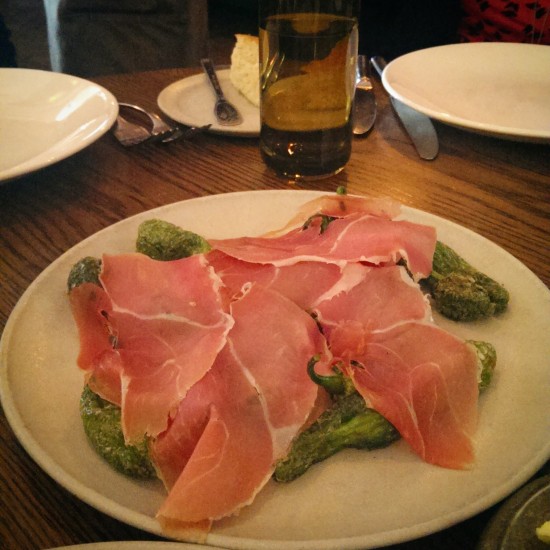 (Jamon Serrano & Padrón peppers)
So anyway the six of us sat down to longggg lunch. A kid's menu was offered to us at $25 but I have asked her if it was okay we didn't order anything special for her as a) Mum and I just had surgery, we would struggle with our share of the food to start with b) I wanted Mini to try all the different things that we were eating and c) she eats so ridiculously little anyway. The waiter let us know that there was no obligation to order a special meal for Mini. The one thing I have experienced was that they didn't seem to mind having Mini there (at 6 months or 4 years) – I was quite nervous about taking a child to a fine dining restaurant but I did my best that she wasn't disruptive and both meals went on quite wonderfully.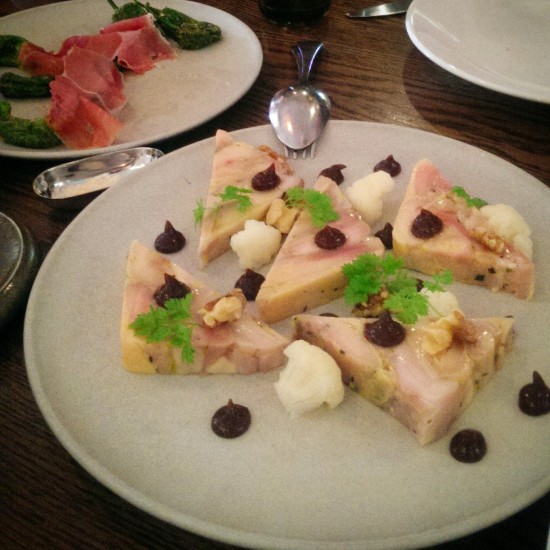 (Chicken terrine, prunes & cauliflowers)
The Sunday Lunch at Cutler & Co. is a set menu at $75pp (it was that much four years ago, it still is now, amazing) with shared entrees and individual mains and desserts.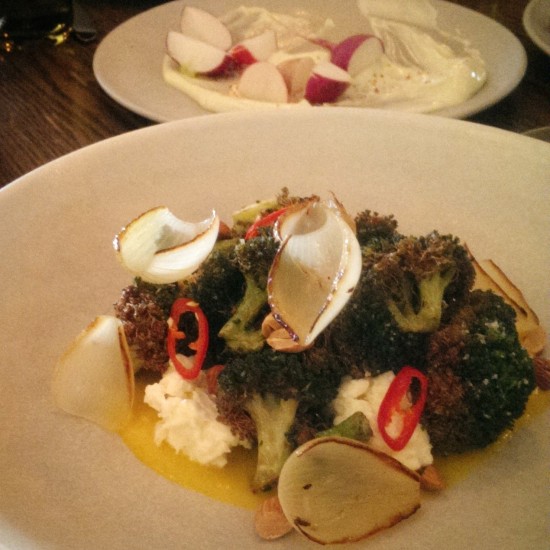 (Stracciatella, yellow capsicum & broccoli)
The menu changes every Sunday and is based on whatever is in season at the time and you get a number of shared entrees (I have to say they are the highlights), one main each from a choice of two and one dessert each from a choice of two plus the cheese plate option.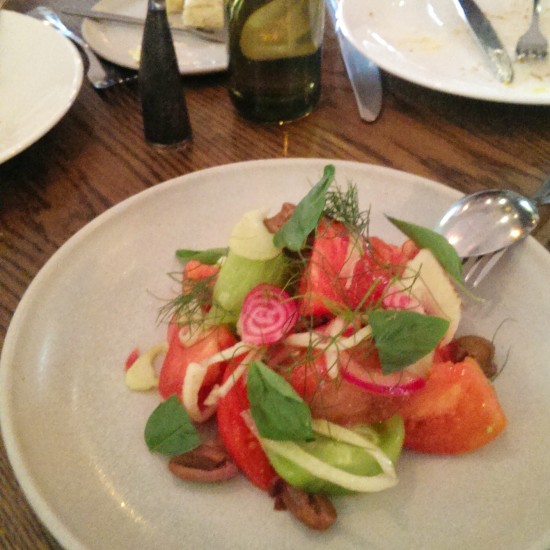 (Heirloom tomatoes, black olives, fennel and basil)
Between the five (plus one) of us, we had five entrees (description taken directly from the menu): Whipped cod roe and radishes'; Jamon Serrano & Padrón peppers;Chicken terrine, prunes & cauliflowers; stracciatella, yellow capsicum & broccoli; and eirloom tomatoes, black olives, fennel and basil. As I am more of a vegetable person, I have to say these blew my socks off. When a really fabulous Melbourne restaurant gives you something as simple as tomatoes, you betcha they were going to be the best damn tomatoes you've had in a long time! And the broccoli! Oh, the broccoli! So smokey and delicious. I also loved the radishes too.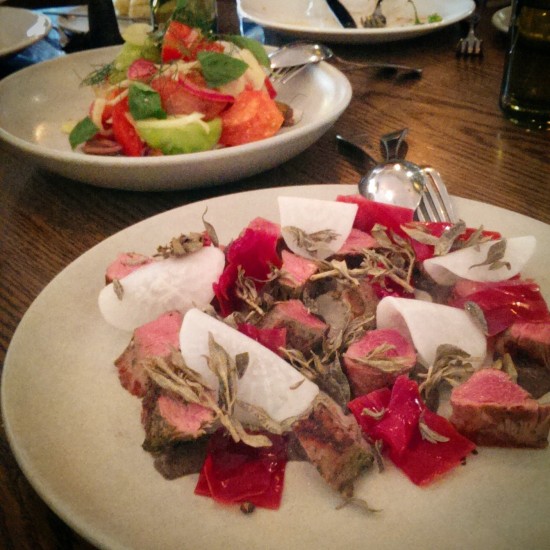 (Lamb tenderloin, radicchio sauce and daikon)
The jamon and Padrón peppers were really awesome. These are the peppers that have (roughly) one in ten chance of it being really spicy and the rest are mild, but flavourful. We ended up getting two spicy ones out of about ten. The spicy ones were really lovely and spicy but they did temporarily kill your taste buds. The lamb tenderloin was also amazing. It was beautifully tender and yet had the most amazing flavours. Yeah, just go. Get thee to Cutler & Co. (And I haven't even finished the post yet)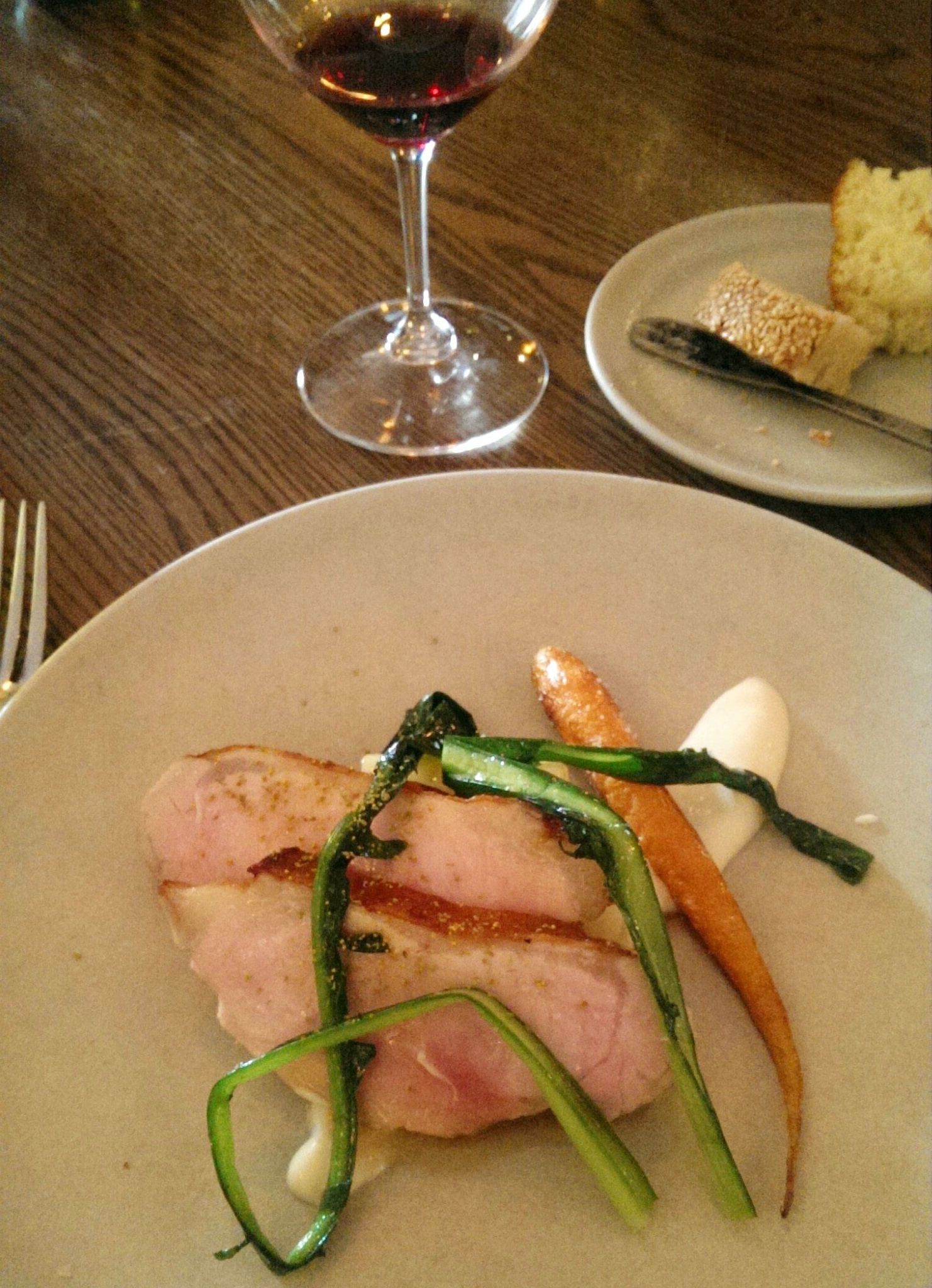 (Berkshire pork, cauliflower purée & chicory)
Because our entrees were so fabulous and interesting, I have to say our mains of 'meat and veg' became a bit boring. The pork, even though served medium, were not as tender as I'd hoped and it wasn't well seasoned. I just found it really boring. I think all of us with the pork choice agreed. Compared to the lamb entree which blew our socks off, this was lacking somehow.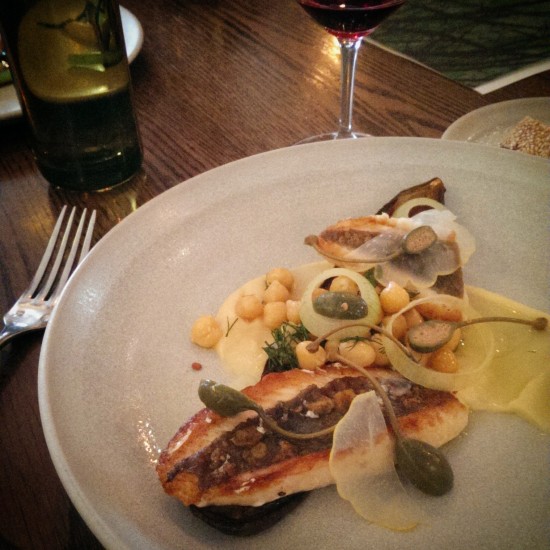 (John Dory, chickpeas, eggplants & preserved lemon)
The other main was 'fish and veg' but this was slightly better. Josh and I did the usual thing of ordering both mains and switch with each other half way through (as you do.) The John Dory was better. It was well cooked, the eggplant puree had a lovely smokiness to it and it went well with the chickpeas and the caper berries. But again, compared to the entrees, it was slightly on the boring side.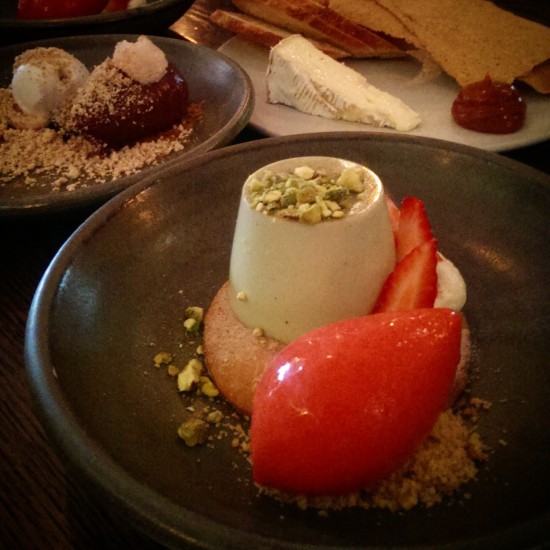 (Pistachio & cinnamon panna cotta, Sablé biscuit, strawberry)
By this time, we were quite full (and Mini was a champion at eating all the things I put in front of her – she particularly loved the jamon "Mummy! This is the best ham ever!" and the prune sauce that came with the terrine, ate a bit of a pepper that I had made sure wasn't spicy, a bit of broccoli and cheese, radishes but wasn't a fan of the cod roe and a bit of the John Dorry which she loved but then spent most of the time playing with the iPad until dessert was served. Deprived child. She only gets to play with a tablet when my mum is in town) but there were desserts to be had!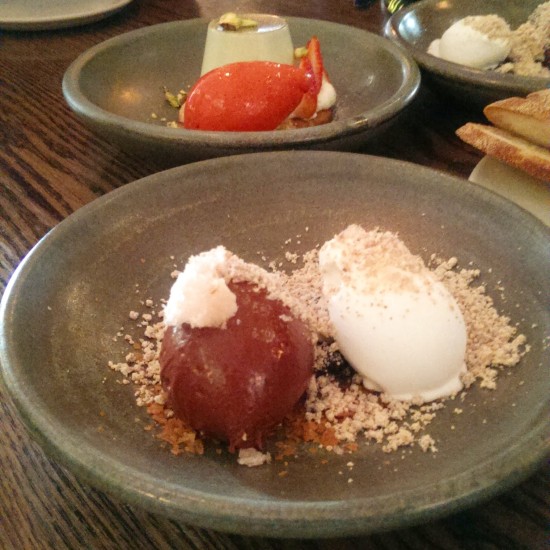 (Soft chocolate, coconut sorbet, lychees & hazelnuts)
I know. It's a tough job but someone had to do it. Because there were five of us, we got two each of the choice of the desserts and the cheese plate.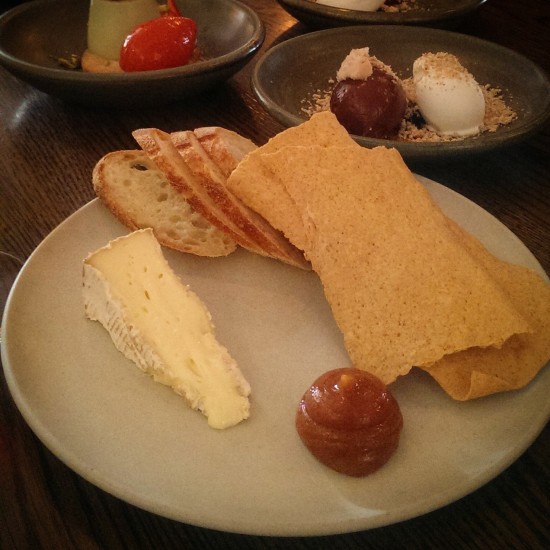 (Ferme de Jouvence Brie, quince & lavosh)
They were smashing. Everything was really good. The cheese plate was unexpectedly the highlight. I have to admit, I never ordered a cheese plate in place of dessert before. Often, you go to one of these degustation type dinner and it's meant to be romantic dinner for two and there are two dessert options plus cheese, the cheese gets neglected. But this time we got the cheese platter, and oh did we not regret it!
So two lessons for everyone: get thee to a Cutler & Co Sunday lunch, where the food is amazing, the service is impeccable, the atmosphere is relaxing, the lunch is long and the booze is aplenty. And get the cheese plate.
---